DISCOVER THE OFFICIAL APP OF
THE EDP ROCK 'N' ROLL MADRID MARATHON &½!
Once again, Ibercaja is providing the latest technology through the Offfical event APP.
This is availbable once to all participants, friends and family on their mobile phones..
See your own results
Consult everything related to the course.
Have updated weather information.
Be more trendy than ever with the official selfies.
Exclusive information and promotions
AND MUCH MORE!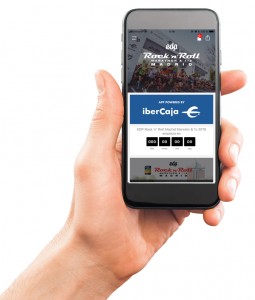 IF YOU WANT TO FOLLOW A PARTICIPANT:
Follow any participant (Live Tracking)
Watch live streaming of the race
The Edp Rock 'n' Roll Madrid Marathon & ½ APP is completely free and available for Android (Google Play) and Apple (App Store).
Powered by Ibercaja