GOODBYE TO THE PLASTIC BAGS
The EDP Rock 'n' Roll Madrid Marathon & ½ continues their support and commitment with the environment and goes a step further towards the 42nd edition of the event, which will be held on April 27th 2019.
With the aim of reducing polluting elements and continuing to ensure the sustainability of the event, the EDP Rock 'n' Roll Madrid Marathon & ½, in collaboration with Coca-Cola and Alcampo, will eradicate the traditional plastic bags from the finish line refreshments to replace them with reusable bags non-woven, specifically designed to withstand the weight of beverages and food in its capacity, to be used on numerous occasions and suitable for being washed, with the aim of prolonging its useful life and restricting the polluting components of the event.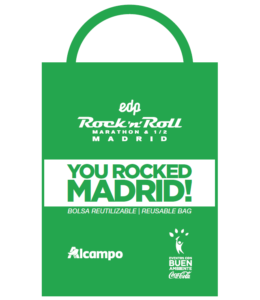 Perseverance for a sustainable event
Since previous editions, sustainable measures have been carried out to protect our environment during race day with the aim of reducing the environmental impact that an event of this nature can produce. Among them, measures were carried out aimed at reducing the waste generated and promoting recycling, through:
1. Creation, development and promotion of green volunteering, training volunteers and team members in sustainability measures at sporting events.
2. Pickups of plugs and plastics in the course and finish line refreshments.
3. Installation of specific recycling containers.
4. Environmental sensitization campaign for runners based on measures to reduce the environmental impact and how to apply them the day of the race.
5. Elimination of sponges due to their high pollutant character to be replaced by refreshing showers along the course.
6. Reduction of the number of motor vehicles in favor of ecological vehicles such as bicycles and sanitary pads.
7. Replacing the plastic bags in the finish line refreshments with reusable non-woven bags.
Thanks to these acclaimed actions, the EDP Rock 'n' Roll Madrid Marathon & ½ is today a clear example of sustainability for other sporting events in the city. In addition, it will continue working oni t so that all the people involved in the event (from members of the organization and volunteers to the athletes themselves) echo all these sustainable measures and take responsibility of them, being informed about it and helping through all the resources that will be available on April 27th.
Because keeping a clean city that let us to continue running through its streets is everyone's job.